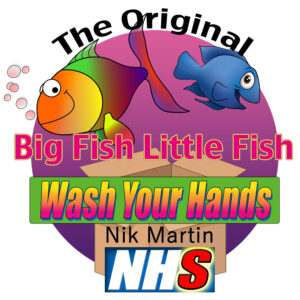 Big Fish Little Fish Wash Your Hands NHS
The Big Fish song has now been remixed. The lyrics have been changed to help kids keep fit during this unfortunate Corona Virus Lockdown. Its now called "Big Fish Little Fish Wash Your Hands". And all profits are going to help the NHS and all the Key Workers out there.
A couple of my business friends asked me to remix the song and then we all got together to create a great fun Video.
Massive thanks go out to all the people that took time out to record themselves dancing and then sending the videos in to us. Chris Curtis gets the credit for picking out all the best bits and piecing it together into this great Party Dance Video. And Phil Laycock from P and L Lighting and Sound, who's random idea it was to suggest that i re write the lyrics and create this new version.
Helping The NHS with Big Fish
I've had some great exposure over the years with the original version of Big Fish. And have hopefully brought a few smiles to faces around the world. This remix takes it to another level in my opinion. With this crazy uncertain time that we are living in at the moment we all need a little light distraction. And hopefully this fun song will help.
It would be really great if you downloaded the song from iTunes. All profits are going to the brilliant NHS and Key Workers that are keeping us all safe during this Covid 19 Lockdown. So, for the price of less than a cup of coffee, Please Click on the link NOW!
Big Fish Wash Your Hands for The NHS
And this is the link to our Just Giving Fundraising Page. Its all going to an incredible cause so anything you can spare will be awesome. Thanks All. AND STAY SAFE