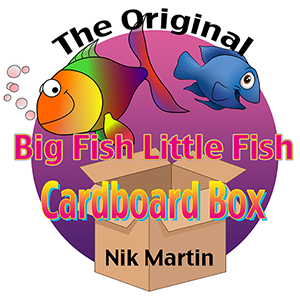 Big Fish Little Fish Card Board Box
Well, what can we say about The Big Fish Little Fish Song? It amazes me how many people this has affected around the world. And yes, I do mean around the world. I've had people trying to get hold of a copy of the song when they have heard it in Mexico, America and even Australia! I still get people coming up to me when I'm out asking if it was me that wrote that song Big Fish. And when I tell them yes, they usually want their photo taken with me. And quite often with some kind of line like "my kids aren't going to believe this!"
Creating Big Fish Little Fish
Big Fish was just a silly idea that I came up with one evening sat in the sun with couple of drinks under my belt. I knew that Ravers did a crazy hand movement when they were dancing. But nobody had written any fun songs to make fun of what they were doing. In truth, the song took about half an hour to write. I recorded it the next day and that was how long it took. I sent it around a few holiday parks and gave it to a few DJ's and kids entertainers that I knew to see if they would promote it. It went a bit quiet.
Big Fish Takes Off
Suddenly, after about a year of The Big Fish Song being out there, I started to get some great feedback. People started picking up on it and I got lots of enquiries as to where they could get a copy of it from. Oh, It's available in this web site shop by the way. The song was being played every night around all the major UK Holiday Parks including Haven, Park Resorts, Park Dean and Pontins. And even now, after all these years, the song is still getting everyone on the Party dance floor. It feels great to know that I've left a little something, that's made a lot of people smile around the world.
bob the builder records big Fish
Another high note to mention, was when myself and my business partner became involved with the clothing company Gio Goi. Through them we made a contact at EMI records in London. We got a private interview with one of their top executives who was just in the throes of promoting a rock band called Kasabian. We played the Big Fish Song to him and he flipped. He said he knew the perfect person to record this. There was a colleague at Universal and they'd just finished an album but hadn't got the single yet. He quite literally jumped in a taxi and took it down to Universal there and then. Who was the singer that needed a single? Bob The Builder.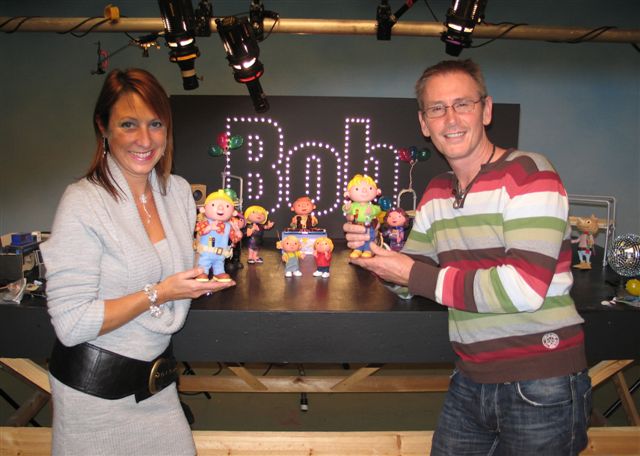 Christmas Number One Contender
Universal loved it and recorded it with Neal Morrissey within days. A stop frame animation video was then created with Bob The Builder and it was released for Christmas. At one point we were tipped by the bookies to be Christmas number one competing with X Factor and Gary Barlow! Unfortunately, it wasn't to be, but it's still a great story to tell the grand kids. Not many people have a song recorded by Bob the Builder or actually get to meet him. And get their picture taken with him.
Angus, Thongs and Perfect Snogging
The Crazy Song was also used as the Angus Thongs and perfect Snogging party song in the film of the same name. It's short and sweet, but the characters in one scene are dancing down the road singing the main chorus. And I got a song writers mention when the credits come up at the end of the film. Sure, I'm not going to win an Oscar or get a Grammy for it. But it's a nice feeling to see your name come up.
Big Shop Little Shop M & S and Louis Spence
Recently used in the all new Marks and Spencer (M & S) advert, "Big Shop, Little Shop, Cardboard Shop" is based on the original song "Big Fish, Little Fish, Cardboard Box" by Nik Martin. Big Fish is one of the most popular Kids Party Dance Songs played in UK Holiday Parks. It's even been heard in Thomson hotels in Spain, Majorca and Ibiza and believe it or not, Mexico and Australia. Nik Martin is one of the original members of party dance duo Rik & Nik who's songs you and your children will have danced to at holiday parks such as Park Resorts, Park Dean and Haven Holidays.
First Dates
Nik famously got smooth French Maître D Fred to do the Big Fish dance at his table on Channel 4's First Dates. It was really funny. Fred came up to myself and my date, because all the waiters were asking about the song and i think he felt he was missing out. And in his wonderful French accent said "what is this song, big fish small fish cardboard box?"
This Marks and Spencer (M & S) version "Big Shop, Little Shop, Cardboard Shop" sees Louis Spence take this fun song to a whole new level
Why not get the original version Now!