Rik & Nik The Party Kick was conceived from a crazy idea that myself Nik Martin and my great friend Rik Gaynor had. It was while we were touring around Haven Holiday Parks in the UK for Qdos Entertainments.
We were speaking to one of the Haven entertainments managers. He told us that all the guests were bored of the usual dated kids party dances and wished someone would write some new ones. So, on a long car journey on our way to Wales we wrote the first of what was to be many successful Party Dance Songs. The world cup was happening at the time and the theme we went with was "The Mexican Wave". We recorded it in the studio and it turned out really well. Finally, we needed a name. I was called Nik, Rik was called Rik, hence Rik and Nik.
Promo Shows
Rik suggested that we promote it at the holiday parks we were performing our shows at and it became an instant hit. We recorded 20 cassettes (yes cassettes!) and they sold out within minutes. At this point we realised we were on to something that could be very successful. We copied more cassettes for the next nights promotion and they went crazy for the song again. Next came Posters, key rings, baseball caps and T Shirts. We had created a monster!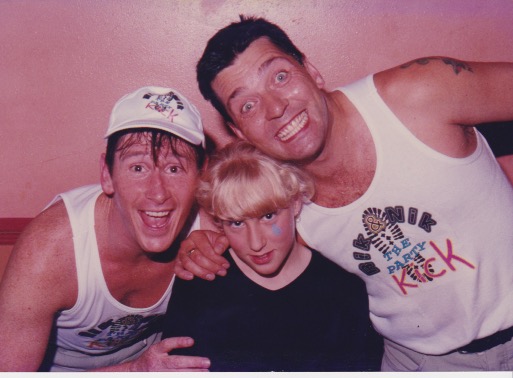 Over the next few years we added a new song every year. First came The Caribbean Way, then we created a dance version of an old 50's song called Purple People Eater. Old King Kool was a crazy song that took you around the world with lots of different dances.
Times were a changing as they say and so we moved on to CDs. We released 2 cd albums that were full of instant Holiday Park Hits. Kids and Mums and Dads went mad for the songs. The next song to get the dance floors full was Oodoo The Voodoo Man.
Rik & Nik The Video
The magic of all the Party Songs that we created was that they all came with their very own dance. Neither myself nor Rik are what you would call natural dancers. We used to say, I can't dance to save my life and Rik was worse than me! Although I'm sure Rik would say it was the other way around. The dances were very simple and lots of fun and we knew that if we could do them, anyone could do them.
And so, with all the songs that we'd created there became a demand for a video to show how to do the dances. We created a collaboration with a friend of mine who has his own video company ITVV and Rik & Nik the DVD was born.
Although we don't write together or tour anymore Rik and I still remain great friends. We both do our own projects for Holiday Parks and you may have heard of a little song that I wrote and recorded called Big Fish Little Fish Cardboard Box. Although Big Fish is actually my song, it's great to know that Rik has recorded a version himself.
The Rik and Nik Party Madness CD and DVD party pack
Rik & Nik songs are still played all over at holiday parks entertaining everyone young and old. And yes, you can still buy the Party Madness CD and DVD Party Package. Just click on the link below for more information and how you can purchase it. And to keep you going, check out some short demos to get you back into the party mood.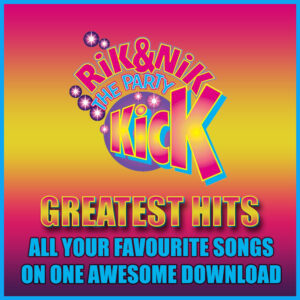 CLICK HERE NOW TO GET INSTANT ACCESS TO ALL YOUR FAVOURITE RIK AND NIK SONGS